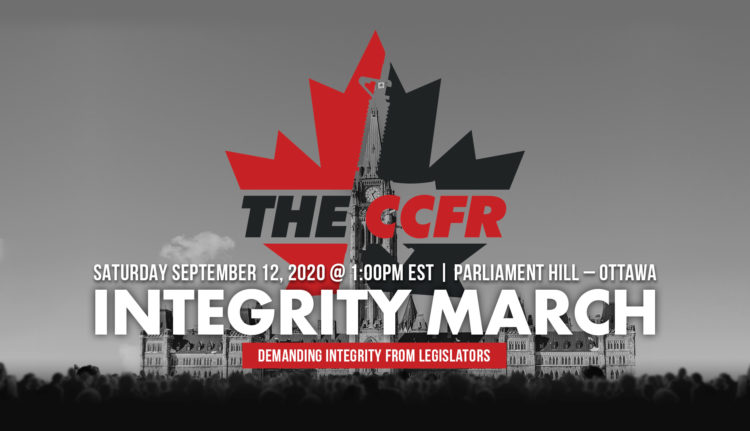 #IntegrityMarch Survival Guide
Saturday, September 12, 2020 – 1:00pmEST – Parliament Hill, Ottawa
At the CCFR, if we do something – we do it right. The most important thing for us is to protect the safety of our members and supporters, and the general public. We've put together this guide to answer some of your most-asked questions and to help you join us for an effective, positive, safe march on Ottawa. If you don't find answers to your questions here, send us an email at march@firearmrights.ca
What's the purpose of our march?
The CCFR, and YOU have taken action on every front. We have opposed this harmful measure in every way possible, we've signed the petitions, written letters to our lawmakers, produced TV specials and written materials, we've spearheaded a national advertising campaign with over 68 full page ads,  engaged in the most significant court action in Canadian history and the list goes on.
We've taken your voice to every corner of this country … you will be heard, but you also need to be seen. The Liberal government just wants gun owners to go away quietly, and that's something we just can't do. The CCFR believes that protests carry inherent risks – this is why we've decided to conduct a march instead. Our goals are to draw attention to our cause, motivate and unite gun owners and provoke a conversation about the injustice and ineffectiveness of gun bans. The march also gives gun owners an opportunity to show Canadians who they really are; we are your friends, your colleagues and your neighbors.  We are no different than anyone else.
Widespread participation is essential to the CCFR achieving our goals. The CCFR is deploying a three-camera film crew to capture this event for upcoming media projects. This is an opportunity to make history and we need you there. If you're local, it's only a few hours of your time, so please make every effort to join us.
Make no mistake
This is a public relations exercise, not an opportunity for us to express our frustration.
Where and when?
We will congregate on Parliament Hill for 1:00pm EST. Arrive early to avoid being delayed by traffic congestion. Expect some short housekeeping announcements from Rod & Tracey before we get started. Here's a map of the Integrity March route – it's about 1.5 km's and should take about 30-60 minutes to complete. We'll be led by a bagpipe and drum band so there is no chance of getting off track. We'll finish off right where we started. If you have questions, concerns or need help of any kind, look for our official volunteer team in the #IntegrityMarch t-shirts with "Team CCFR" on the back – they're happy to help out in any way. The march is fully accessible.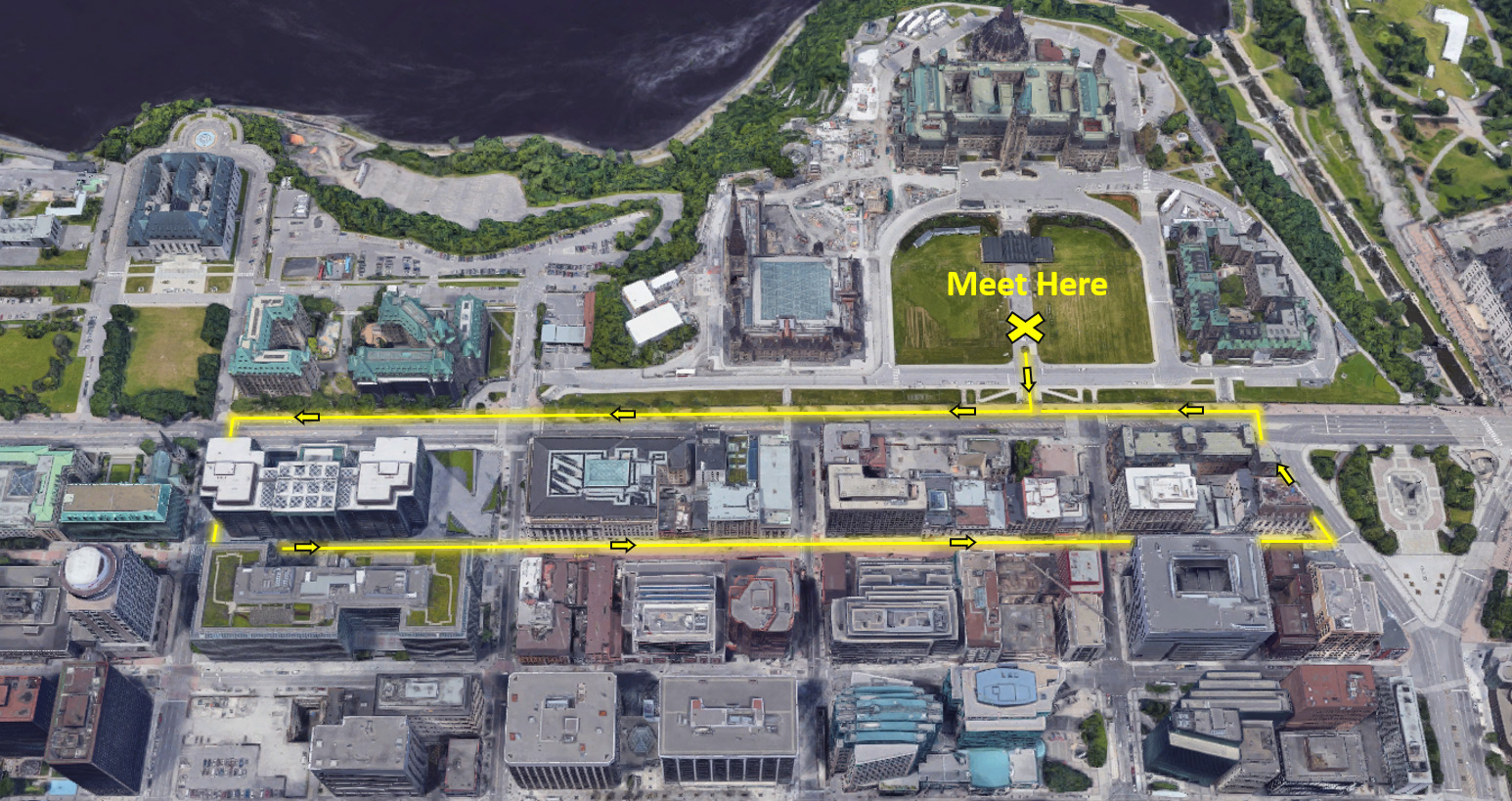 What should I wear?
The point of this march is to show Canadians who we are, regular, hardworking, highly vetted citizens who want safer communities. We are lawyers, doctors, construction workers, health care workers, teachers, tradespeople and so on … consider wearing your uniform or other clothing that represents who you are. If you're a lawyer- wear a suit, if you're a hockey coach – wear your jersey, if you're a nurse – wear your scrubs and so on.
We would suggest saving clothing with harsh messaging or questionable images for another time. Again, this is a public relations exercise. We want the best possible image to come out of this effort. Lastly, wear comfortable shoes.
What do I bring? Do I need signs?
The CCFR will provide signs, banners or flags to carry. This will give us a consistent message. We are trying to avoid people marching with signs with foul language and inappropriate messaging, to preserve the image of gun owners – that we are their reasonable, friends and neighbors. We are asking people not to bring their own signs.
Covid-19 got you worried?
The CCFR takes your health & safety seriously. We want to avoid any increase in new cases and encourage all participants to take as many precautions as possible, including wearing a mask. Keep in mind this is a public relations exercise, not a debate on the effectiveness of masks, or mandatory regulations. Recent similar events did not result in a surge in cases and we are confident we can be heard, safely. This event is strictly an outdoor activity.
CCFR will have plenty of masks on hand for those that want one; though you are encouraged to bring your own. The CCFR also encourages the use of hand sanitizer and washing your hands as much as possible. We'll have lots of sanitizer on site to keep everyone's hands clean.
Lastly, if you are feeling sick or have a fever, do not attend. You will reduce the risk for everyone by staying home. Stay safe, stay healthy.
Can I bring my guns?
NO – DO NOT bring any of your firearms to this march. The Criminal Code of Canada states; "89 (1) Every person commits an offence who, without lawful excuse, carries a weapon, a prohibited device or any ammunition or prohibited ammunition while the person is attending or is on the way to attend a public meeting". Please leave your firearms stored safely at home.
Is there any security?
Ottawa Police Services (OPS) and Parliamentary Protective Services (PPS) will both be on hand to provide security to everyone. Do not try and intervene in potentially dangerous situations or put yourself in harm's way.
What do I do if I spot trouble?
Make sure you arrive with a fully charged cell phone if you've got one. If you see something suspicious or concerning, make sure you video-record it. This should be your first reflex at the sign of trouble. If you see other people beside you doing the same, consider moving to capture a different angle. If it is important – forward it to march@firearmrights.ca
We plan for a highly organized and positive march, but there are those who would like to cast a negative image on our community and our event. Eyes open everyone!!
What do I say to the media or the public?
It is important for you to be able to articulate why you're marching but avoid getting into debates. For detailed information, direct them to speak with Rod or Tracey, however there may be a chance a microphone is stuffed in front of you, or you may want to speak to our own film crew. In that case, here are some way to express our goals:
I'm here with my friends and family to demand credible work on actual crime and violence. Instead, of doing the right thing, this government has chosen to directly target people like me.
I'm a peaceful, legal gun owner. I work hard and have a family – I want a safer Canada too!
Having a firearms license doesn't make me a criminal – our political leaders should be focusing on crime.
C-71 and gun bans directly affect the lives of legal gun owners but don't address crime. Criminals don't even know what the gun laws are.
I expect our lawmakers to create policy that addresses crime and violence, not waste billions of taxpayer dollars chasing gun owners.
As an every day Canadian I need the government to crack down on criminals.
If violence in our society is a problem, then tackle violence.
You can also direct media or the public to www.integritymarch.ca to read our full statement regarding the Integrity March and our concerns.
Be careful not to elaborate, some media have an interest in discrediting gun owners. The above points should keep you out of trouble.
Where do I park?
This is a bit of a challenge as parking is somewhat limited in downtown Ottawa. If you're staying at a hotel downtown, consider leaving your car at the hotel and either walking or taxi/uber over to the hill. If you're coming in from out of town, ask your favorite gun store or range to organize a bus trip. They can get information on this by emailing us at march@firearmrights.ca
There are a few places to park downtown, but they are pay parking: Ottawa City Hall underground (7-minute walk), World Exchange Plaza (5-minute walk) or the Rideau Centre (7-minute walk). There are other small public parking areas scattered around so watch for the round signs with a green "P" on them.
Another option is free parking outside the downtown core and using public transit to access the hill. If you're coming from the east, consider parking at St. Laurent Shopping Centre and taking the O-train and walking over – 12-minute ride + 5-minute walk. If you're coming from the west, try parking at Bayshore Shopping Centre and taking the O-train or the #11 bus eastbound to the hill and walking over – 1-hour ride and 3-minute walk. You can explore your public transit options here: https://plan.octranspo.com/plan
Where can I stay?
Accommodations are available. For those coming from out of town, local hotels have offered some discounted rates to our guests:
Delta Hotel City Centre: Double occupancy, Queen or Double bed = $99. Wifi, gym, saltwater pool access included, walking distance to Parliament Hill.
101 Lyon Street North, Ottawa 613-237-3600
To book – CLICK HERE – special rate available Fri-Sun (Book before Sept 1)
Best Western Ottawa: Classic guestroom w/2 Queen size beds = $125. Parking, wifi, gym and pool access included.
1274 Carling Ave, Ottawa 613-728-1951
To make reservations call toll free 800-528-1234 or e-mail frontdesk@ottawabestwestern.com GROUP BOOKING ID: 5I4KL8D7 (case sensitive). When making reservations, refer to CCFR Block ID 2019. Cancellation allowed up to 24hrs prior to arrival – late cancellations subject to one night room charge +tax.
 Will there be a pub night?
Due to Covid-19 measures in the city and the number of people expected to attend, there is no planned pub night. However, Sparks Street in beautiful downtown Ottawa is an open-market, pedestrian tourist strip lined with shops, pubs and restaurants and there will be plenty of time and outdoor patio space to socialize safely after the march.
If after all of this, you have any other questions, please send us an e-mail at march@firearmrights.ca and we'll be happy to help you the best we can.