The CCFR is a non-profit, volunteer driven organization. We strive to keep fixed costs at their lowest. This means that membership funds and donations are used to further our goals as responsible gun owners. Now is the perfect time to become a member and create positive change for our community.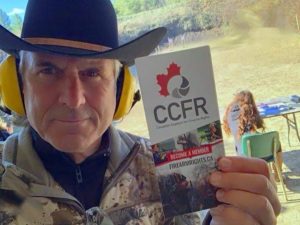 "This is the organization you should join, if you are a hunter and/or gun owner. The Canadian Coalition for Firearm Rights" 
~Jim Shockey, professional big game outfitter and television producer and host for many hunting shows. 
Life membership is good for life.
Other memberships are valid for one year.
Additional insurance is valid for one year regardless of membership selected.
Note: You must be 65 or older to qualify for the senior membership.
Download a PDF of our membership application and send in with a cheque if you prefer: Membership Application Form
CCFR:
P.O. Box 91572
RPO Mer Bleue
Ottawa, ON
K1W 0A6
You can join via EMT as well – send your payment too finance@firearmrights.ca and include your name, address, phone and email address in the note section.
This page has moved to: https://membership.firearmrights.ca/