Our Mission
The Canadian Coalition for Firearm Rights aims to be a strong and reputable, public-facing voice for Canadian firearms owners. We are committed to maintaining our current rights and freedoms while continuing to push as a mobilizing and organizational force for positive legislative change.
Our Vision
The Canadian Coalition for Firearm Rights is a volunteer organization representing the Canadian firearm owning community. Our vision is to maintain, protect and promote private firearm ownership. We will accomplish our vision by engaging in the following efforts:
Inform and educate the Canadian public about current firearm laws and regulations and their effect on our society.
Provide support and accurate information to media and government concerning firearm issues, policies and regulations including social impacts.
Promote human rights in Canada as they apply to defense of persons and property rights.
Promote in an inclusive nature, all firearm related activities and culture in Canada.
We aim to represent law-abiding firearm owners in a fair and reputable way therefore becoming the most effective organization of its kind in Canada.
Want to see what we've been up to? Check out this list of what we have done in the short time we've had: CCFR Accomplishments
For more info, contact us at: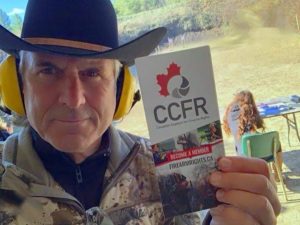 "This is the organization you should join, if you are a hunter and/or a gun owner. The Canadian Coalition for Firearm Rights" 
~Jim Shockey, professional big game outfitter and television producer and host for many hunting shows. Shockey is the producer and host of Jim Shockey's Hunting Adventures and Jim Shockey's Uncharted on Outdoor Channel and Jim Shockey's "The Professionals" on Outdoor Channel and Sportsman Channel. He is an active member of the Canadian Armed Forces (CAF), serving the rank Honorary Lieutenant-Colonel (HLCol) of the 4th Canadian Ranger Patrol Group. His hunting adventures have spanned six continents and 50 countries, and he has taken over 367 big game species. Shockey has been called by Outdoor Life magazine "the most accomplished big-game hunter of the modern era, having taken arguably the most free-range big game species by any living hunter." They also noted that he is "the most influential celebrity in big-game hunting.