PLEASE READ THIS BEFORE PURCHASING THIS MEMBERSHIP:
This is an exclusive SWF/CCFR membership. This membership does not come with insurance. This is already provided to you by the SWF. It may take up to 6 weeks to receive your membership card, but you will be a member in good standing immediately. Thank you for your support of the CCFR.
The CCFR is a non-profit, volunteer driven organization. We strive to keep fixed costs at their lowest. This means that membership funds and donations are used to further our goals as responsible gun owners. Now is the perfect time to become a member and create positive change for our community.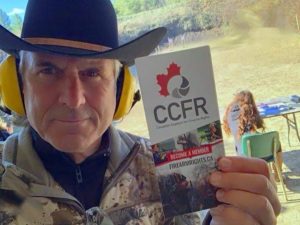 "This is the organization you should join, if you are a hunter and/or gun owner. The Canadian Coalition for Firearm Rights" 
~Jim Shockey, professional big game outfitter and television producer and host for many hunting shows. 
Download a PDF of our membership application and send in with a cheque if you prefer: Membership Application Form
CCFR:
P.O. Box 91572
RPO Mer Bleue
Ottawa, ON
K1W 0A6