Earlier this year, gun owners across the country watched in disappointment as Public Safety Minister Ralph Goodale appointed members to his very one-sided Canadian Firearms Advisory Committee (CFAC). The Liberals had dismantled the original CFAC Team appointed by the Tories, claiming they had created a biased pro-gun committee. Canadian gun owners had hoped that Goodale would keep his promise of a balanced, fair panel.
That promise has been broken. 
In an effort to learn what kind of topics this unequipped committee are discussing and advising the Minister on we filed an ATIP with Public Safety; 
"Meeting minutes, notes or other documentation from the first meeting of the Canadian Firearms Advisory Committee (CFAC) held in March as well as the meeting on May 9, 2017. This ATIP should include any projects or "homework" given to committee members to bring to the next meeting" 
You can download the entire ATIP file here: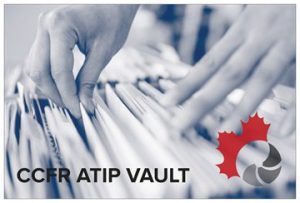 If you haven't already, please take the time to sign our parliamentary e-petition sponsored by MP  Michelle Rempel