When Cornwall, Ontario native Mary Patrick put out a call for help to fundraise her dream of making it to the Olympics to represent her country, CCFR members put their money where their mouth is!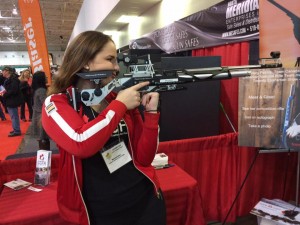 ~Mary at the TSS demonstrating the typical stance of a competition shooter
Mary, a Team Canada member says, "This past summer I competed in Bisley, England, as one of 18 members on the Canadian National Cadet Rifle Team. I was named as the top shooter under the age of 25 and the National Champion for the Dominion of Canada Rifle Association Postal Shoot Matches."
Mary is a Team Canada High-Performance Junior and Canadian Rifle Team member, a mechanical engineering University student and spends her spare time training for the Tokyo 2020 Olympic games and coaching others.
She began a "make a champ" fundraising campaign to help fund her travel and competition costs. Unlike many other sports, the shooting sports seem to have been left out in the cold when it comes to funding from provinces, federal or the Canadian Olympic Committee. This is where the story unfolds. CCFR Director & General Counsel, Michael Loberg, put out a challenge to all CCFR members; donate to Mary's fund in the next 5 days and he'll match it dollar for dollar!!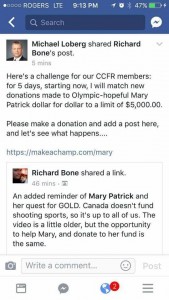 For 5 days the firearms community at the CCFR had a party in Mr. Loberg's wallet, raising a whopping $2150 which Loberg matched for a grand total of $4300 to help this shining star reach her Olympic goals.  
Miss Patrick recently attended the Toronto Sportsman Show with CCFR Chair Tracey Wilson and entertained the guests and kids with a meet & greet, autograph signing and posed for photos. She was a natural with the public. Ontario Director Jamie Elliott had this to say, "After working with Mary at the TSS, I am confident she is the perfect ambassador to our sport. She epitomizes the typical small town Canadian girl with huge Olympic dreams".
The CCFR is a proud sponsor of Mary's quest for the podium and we are thrilled to watch her "shooting for gold"
Follow Mary's journey here Shooting for Gold