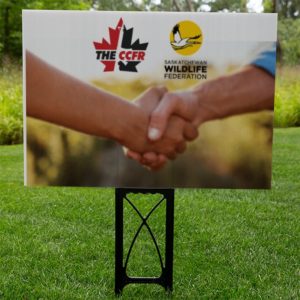 ~ Weyburn, Saskatchewan
BREAKING!! As the members of the Saskatchewan Wildlife Federation emerge from their 91st Annual Convention in beautiful Weyburn, Saskatchewan, the sun is shining on the prairie province a little brighter for law abiding gun owners and hunters. A collaborative partnership was born today at the annual convention, where over 300 members from regions of every corner of the province gathered to celebrate their successes, do the annual bookkeeping and administrative functions and of course … talk about gun legislation.
The CCFR's Tracey Wilson has spent the last 3 days deep in convention mode with the SWF and spoke to the concerned crowd today. She spoke about the unfriendly government determined to destroy our sport and our heritage, the history of feuds between organizations "poaching" their clubs for insurance and that those days have come to an end. Today the members of the SWF were delivered a positive, collaborative message: we either stand united as one community or we fall, defeated and divided.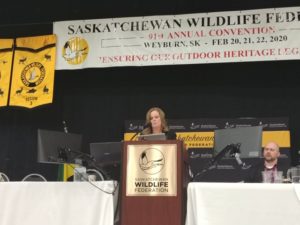 The message was loud and clear and well received by the attendees. Wilson took questions from the crowd and lingered on after the official speech to chat with her new allies.
The SWF supports the work of the CCFR to preserve our sport, and with that in mind, announced today a joint effort - a special (non insured) membership available to SWF members when they join or renew with the federation, to support firearms advocacy at a national level.
Wilson says she intends to continue spreading the positive message of unity with other provincial federations and refuses to allow the community to exist in the divisive environment that has plagued the gun community for decades.
The Saskatchewan Wildlife Federation is a non-profit, non-government, charitable organization of over 33,000 members in 122 branches across Saskatchewan, enhancing fish and wildlife habitat since 1929. One of their key objectives is  "To promote conservation, fishing, trapping, hunting, the shooting sports, and wildlife-oriented activities"