~Ottawa, June 26, 2020
The Coalition for Gun Control, a radical anti-gun lobby group has served the CCFR notice that they intend to apply for intervenor status in our court case against the Liberal's OIC gun ban.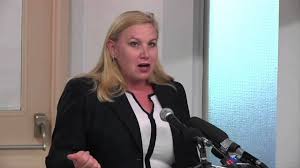 The CGC's president Wendy Cukier has been quoted saying some of the most degrading, awful things about Canada's law-abiding firearms community such as; "Legal gun owners tend to be more effective in killing people because they spend time at target practice or hunting" Source: Toronto Star.
In an e-mail yesterday from Kelly Des Rochers of Osler, Hoskin & Harcourt LLP, Miss Des Rochers stated;
"We are counsel to the Coalition for Gun Control ("CGC"). We have been instructed to file a motion to intervene in the above noted matter. We will serve CGC's materials in the coming days. Can you please confirm that you will accept service by email?
Thank you,
Kelly"
WHAT IS INTERVENOR STATUS? 
Intervention
Leave to intervene
109 (1) The Court may, on motion, grant leave to any person to intervene in a proceeding.
Contents of notice of motion
(2) Notice of a motion under subsection (1) shall
(a) set out the full name and address of the proposed intervener and of any solicitor acting for the proposed intervener; and
(b) describe how the proposed intervener wishes to participate in the proceeding and how that participation will assist the determination of a factual or legal issue related to the proceeding.
Directions
(3) In granting a motion under subsection (1), the Court shall give directions regarding
(a) the service of documents; and
(b) the role of the intervener, including costs, rights of appeal and any other matters relating to the procedure to be followed by the intervener.
In short, an intervenor seeks to participate in an action in some specified manner, as big as effectively being a party, including filing evidence and making oral and written argument, or as small a filing a written brief.
WHAT DO WE SAY ABOUT THIS?
CCFR General Counsel Michael Loberg who is spearheading the CCFR's massive, experienced legal team said "This will be an opportunity to dismantle their arguments in full view of the Canadian public, changing the course of the nation's conversation on this matter" from his Calgary office.
CCFR registered in-house lobbyist Tracey Wilson had this to say, "I look forward to not only holding the federal government and the RCMP to account, but we will finally have the redemption of settling this debate once and for all with the Coalition for Gun Control", from her Ottawa office.
You can help the CCFR fight not only the gun ban, the Liberal government, the RCMP but now also the CGC right now: