~Ajax, ON November 13, 2018
Our very own Tracey Wilson, registered lobbyist for the CCFR, made the trek from Ottawa to Ajax Ontario to attend the "open forum" town hall meeting hosted by MP Mark Holland. You may recognize the name from the infamous "Turf Mark Holland" campaign that cost him his riding seat previously, thanks to angry gun owners sick of him blaming them for the violence in the streets. Well, some things never change and one thing we can credit Holland with, is consistency.
I wonder if he still feels the sharp sting of the last election he lost on the "gun vote".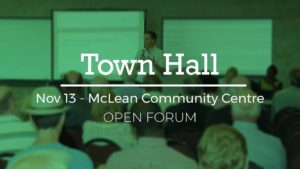 According to Wilson, she was joined by about 25 other concerned gun owners who are local to the area, including sport shooters, hunters and firearms business owners. Holland made it perfectly clear that he noticed some of the people in attendance had travelled for it, nodding at Wilson, and that priority would be given to locals to ask questions or raise concerns. Tracey noted this and did not attempt to inject into the proceedings. Mitch from Auscan Tactical, a small business operating in the GTA specializing in handguns, accessories and repairs attempted to ask a question as his business will most definitely be impacted by the actions of the Liberals should they proceed with a ban on handguns for sport shooters. His first attempt was shut down, but he patiently waited through droves of questions from upset guests on every topic you could imagine. With the Liberals failing on so many files there was a solid two hours of people riding Holland about everything from the Stats Can/banking info issues to immigration to the carbon tax scheme.
The entire town hall meeting was pretty rocky with people becoming increasingly more frustrated with the failures of this government, the lack of transparency and the inability to actually answer a question or be accountable … never fear, this night was no different.
Eventually as the evening wore on and Holland had exhausted every other possible guest with a question, he reluctantly turned back to Mitch, knowing it would be a firearms question since he sat directly beside Tracey.
Holland fails to grasp the dangers of "central storage" and what kind of incredible responsibility that places on ranges across the country. He also has zero topic knowledge on storage or transport regulations either, as is evident in his ridiculous response.
Directly after this exchange, some of the Liberal supporters became completely unhinged. In the video below you can see a woman directing her comments to Mitch and Tracey, blaming gun owners for the gang shootings in Toronto. When they attempted to point out these crimes were not committed by licensed gun owners, they were promptly shut down and silenced, a tactic typical of any type of Liberal consultation or discussion on the firearms file. Facts only matter when they can be crafted to suit an agenda. Policy based evidence making at it's finest.
This more or less ended what we can only call a very "unhinged" town hall. While guests were gathering up their belongings, saying goodbye to each other or casually continuing the conversation, a woman (from the first video) began jamming her iPhone in the faces of the gun owners in attendance and snapping photos. Tracey turned to her and smiled and offered her a business card. May as well have her name and information to add to whatever the photos are for. As she handed over the card to the erratic woman, another lady in attendance turned to Tracey, in front of her 16 year old daughter, and called her a "f*cking loser". Rather unsettling behaviour out of Mark Holland's supporters, but altogether not surprising. Holland has never hid his hatred for gun owners, even going so far as to call them "thugs" in the House of Commons.
Maybe it's time to ramp up the Turf Mark Holland (again) campaign for the upcoming federal election.
Please consider supporting our efforts to continue to fight for your rights to own and enjoy your firearms.