CCFR Statement on Gun Control Lobby Day
As shootings rise in numbers across the country, and law enforcement voices unite to oppose gun bans against licensed gun owners and their legal guns, a small group of anti-gun organizations is applying pressure to MP's of all parties to do the opposite of what the experts suggest.
PolySeSouvient, Danforth Families for Safe Communities, representatives from the Quebec mosque and others, led by Coalition for Gun Control president Wendy Cukier sent out a mass invite to all Members of Parliament and media to attend a zoom "webinar". The topic was "Five years later: what has changed?" asking what legislative changes have been made since the Mosque shooting, in particular, demanding a national handgun ban against legal gun owners. The online meeting was held on Wednesday, January 26,2022 at 7Pm EST.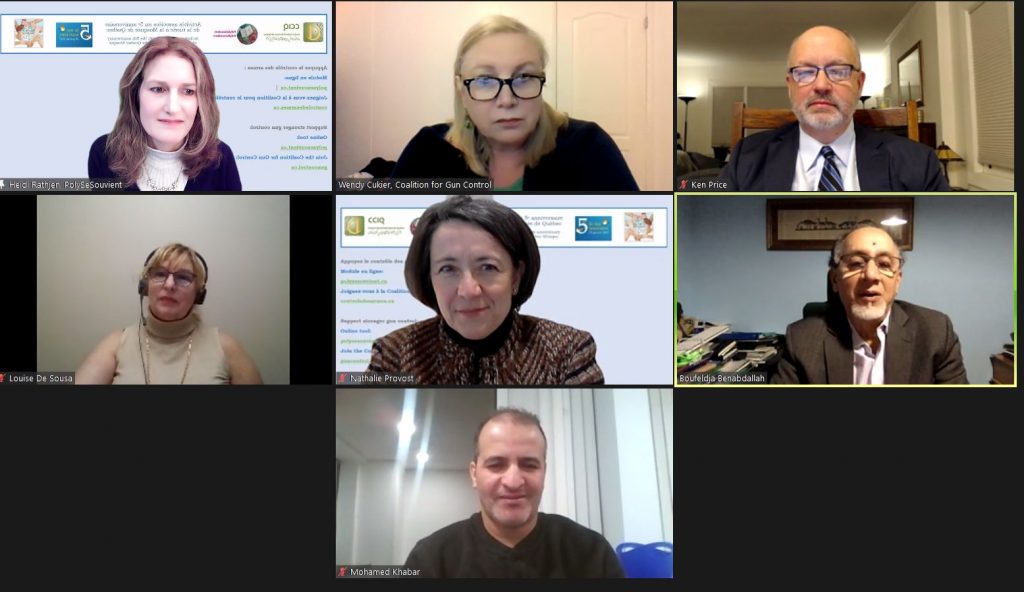 Recently, we have seen some of Canada's "top cops" join in the chorus of voices from experts across the country in opposition to costly and ineffective gun bans.
Staff Supt. Sean McKenna of Peel Regional Police recently tweeted "Another illegally owned firearm seized by Peel Police. This is becoming a far too common occurrence in our community. A municipal, provincial or federal ban on firearms will not stop criminals from carrying them. Root cause issues need to be addressed"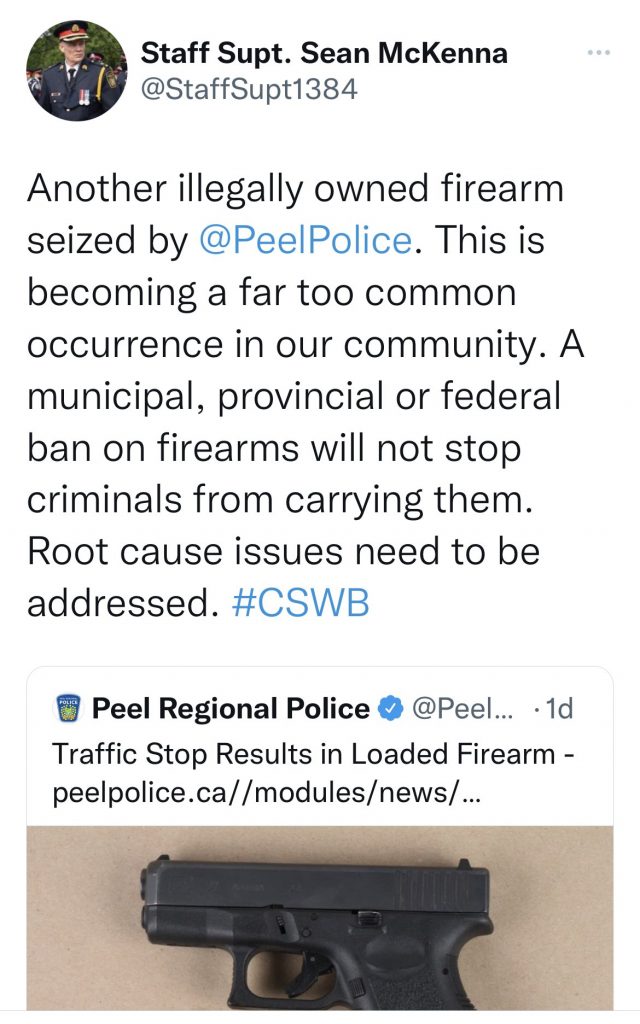 Officer Ron Chhinzer, TPS tweeted the day before "In my time in the Integrated Gun & Gang Task Force, I don't recall ever seizing a legally owned firearm from any of the investigations that I was involved in. The law-abiding population should never suffer or pay because of the unlawful/criminal"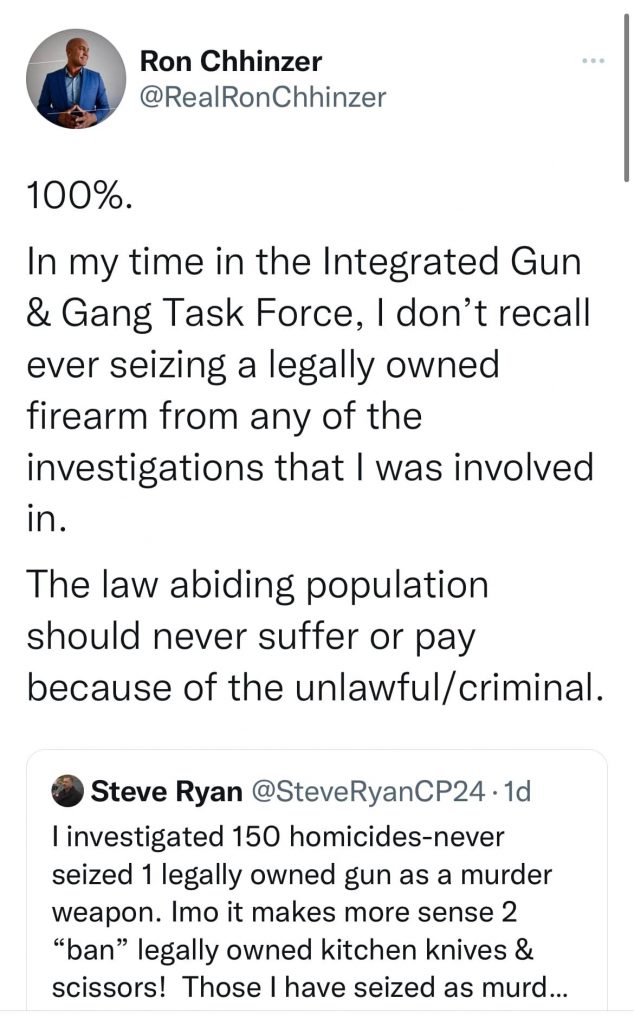 Steve Ryan, Former Toronto Police DS- CP24 Crime Specialist/Analyst - Former Homicide and Sex Crimes Investigator said "I investigated 150 homicides – never seized 1 legally owned gun as a murder weapon. In my opinion, it makes more sense to ban legally owned kitchen knives and scissors! Those I have seized as murder weapons. Banning legally owned guns won't decrease gun violence. Root cause will"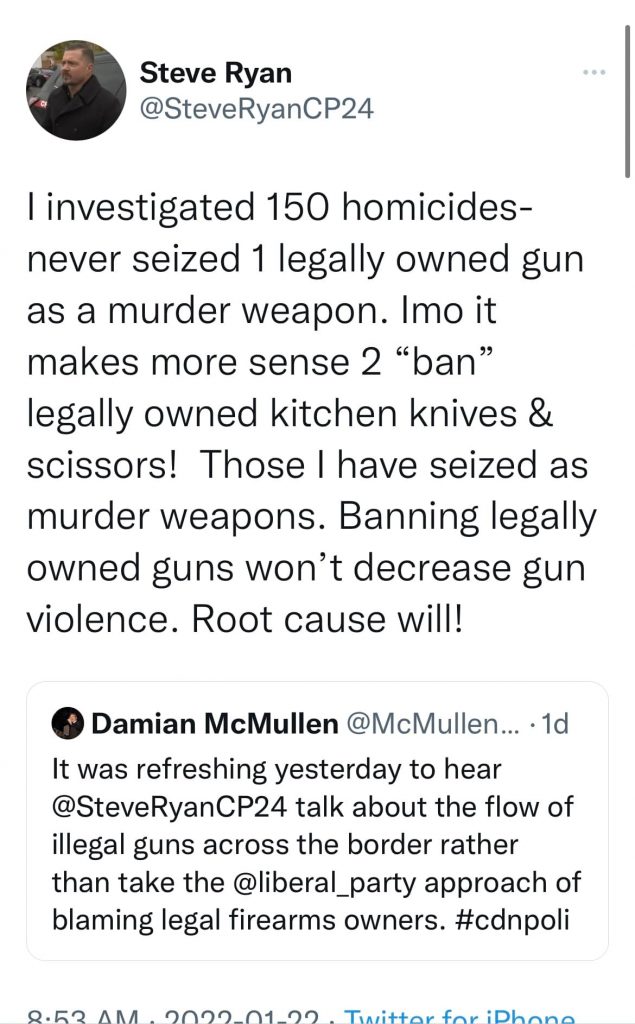 Former OPP Commissioner and CTV Crime Specialist Chris Lewis has been a very vocal opponent of wasting resources on gun bans. "They aren't legally owned handguns nor are they shotguns and rifles. Taking more guns from lawful owners and putting a toothless municipal handgun ban in place will do …nothing … to impact violent crime" Lewis responded to a recent Toronto Sun article calling out the Liberal government for their failure to address crime.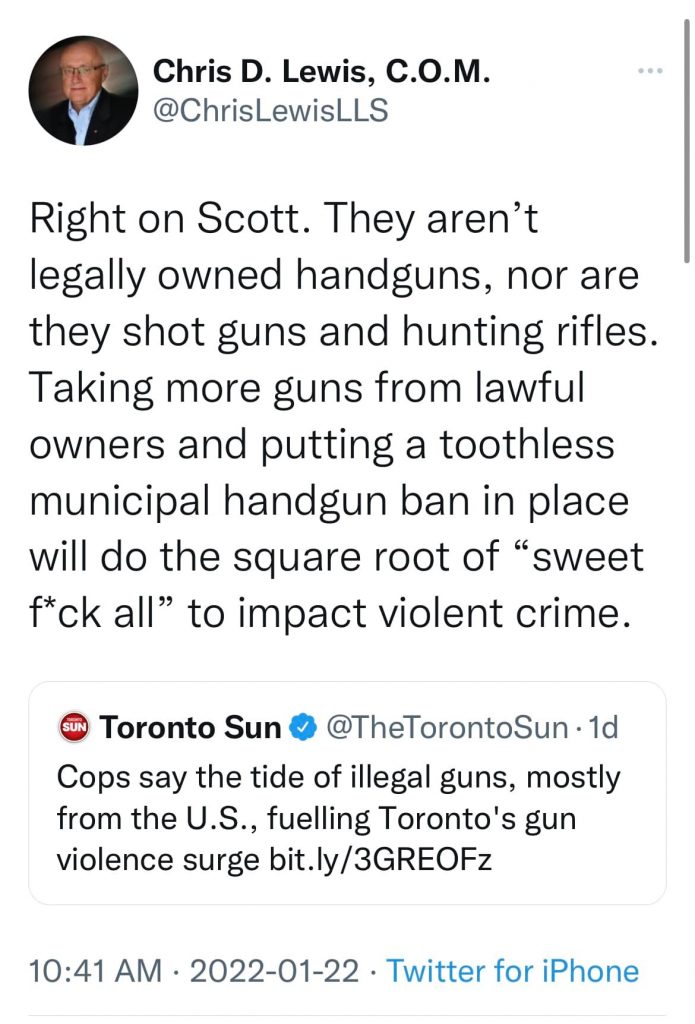 The Journal de Montreal published a report on Jan 25, 2022 detailing that there are over 2000 illegal guns in Montreal alone, citing that Irish and Arab crime syndicates use reserves along the border to smuggle them in and divert them to gangs. Montreal has seen a shocking rise in violence as of late.
NS Justice Minister Brad Johns was responding to the number of shootings rising in Halifax in a Jan 25 CBC article. He stated that "gun crime often comes down to people having illegal firearms".
Toronto Police Services tweets daily about shootings in the GTA and urban centres from coast to coast have seen swelling numbers of violent shootings.
The National Police Federation, the organization representing over 20,000 RCMP front line officers also strongly opposes gun bans against legal owners, and instead suggests investments in border technology to detect smuggling and work in communities for at-risk youth.
Canadians have to wonder, at some point, will we re-focus our efforts and resources on reducing actual crime and violence? Why is none of this deserving of a mass lobby meeting with parliamentarians? Why is Public Safety not working with law enforcement and crime experts to reduce actual crime. Do politics matter more than people?
Canadian politicians would do well to listen to actual experts, law enforcement and community groups to find ways to reduce illicit smuggling and actual violence.
This vendetta against legal gun owners has drawn precious resources and focus away from saving lives for decades. Enough.