On October 17, 2018 the CCFR's Rod Giltaca & Tracey Wilson held a parliamentary press conference in the Charles Lynch room in center block to represent Canadian gun owners as they speak out about the potential of a Liberal ban on handguns and "assault weapons" and the conducting of their survey and invite-only public consultations.
Watch the press conference here: CCFR press conference - handgun ban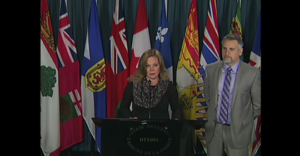 Wilson & Giltaca also held a series of lobby meetings with MP's and Senators and have a list of scheduled meetings with the Senate to complete.
Giltaca will be attending an in-person stakeholder engagement session with Minister Blair this Friday in Toronto, on his invitation.
Stay tuned for more and please SUPPORT THE CCFR