The CCFR is now a National sponsor of "Canada Hunts" on Wild TV.
We are very excited to share the official news that the contracts have been signed and the CCFR is achieving yet another first for Canadian gun owners. The 2.5 million subscribers of WILD TV will now be exposed to our innovative brand of advocacy via commercials, cameos and dialogue throughout the 2018 season.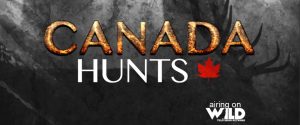 This was a logical next step for the CCFR. Introducing the wide subscriber base of hunters to our political realities will encourage more dialogue and more activism. This activism is desperately needed to boost our communities visibility across this great nation. Gun owners have suffered from 30 years of bad branding and we need to redefine that branding now.
Our members asked for TV and the CCFR delivered. We could not have achieved this without the current support that we receive from our dedicated membership. We have the goals set high and we will continue to break new ground for our community.
Please consider donating an amount of $5.56 (or more) to show us that you support the CCFR on Wild TV.
Donate today:  I support this project  
If you're not a CCFR member, get on the team today!!! I am on Team CCFR
Has your membership expired? Renew right now!!