The CCFR has big news to announce.
Since Bill C-71 was introduced in the House of Commons, the CCFR has been tirelessly advocating against this draconian legislation on behalf of law abiding gun owners. The outpouring of support we have seen over the last few weeks from our members – both existing and new – has been nothing short of phenomenal.
This legislation has caused an uproar in Canada's firearms community, and with good reason: it does nothing to target criminals or violent crime and does everything to criminalize and penalize one of the statistically safest demographics in our society.
At present, C-71 is in the Committee stage – the stage of the parliamentary process where parties deemed relevant to the issue have an opportunity to present their position and the phase where amendments are made and considered. It is, quite literally, the first – and perhaps only – opportunity to affect real change in this deeply flawed legislation.
The impact of the CCFR at the decision making table has grown by leaps and bounds over the past year. Our in-house registered lobbyist has been working tirelessly with elected and appointed officials of all stripes to defend our rights as gun owners (see lobbying reports here) and channel the concerns of the firearms community into meaningful influence with decision makers, particularly in the face of this latest assault on our rights and freedoms.
Yesterday, we received a notice that the CCFR's application to appear before the Standing Committee on Safety and National Security to speak to Bill C-71 was accepted, with an invitation to send not one but both of our representatives.
As such, both of our CCFR staff members – Rod Giltaca and Tracey Wilson – will be appearing before the Committee on May 24th from 11:00 a.m. to 12:00 p.m. to speak formally to the Bill as part of the parliamentary process as well as answering questions from the Committee.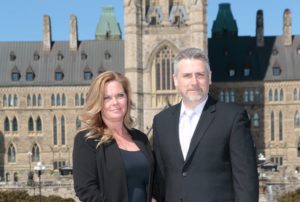 While all Committee meetings are public, the significance of this appearance goes far beyond attendance – it represents an actual, tangible and meaningful participation in the legislative process. More than this, it speaks to our growth as an organization and our increasing effectiveness as the pre-eminent voice of Canadian firearms owners.
In short, they consider our position significant enough to invite us to participate. We are not at the back of the room observing – we are at the front fighting for change.
Our actions have been making an impact, and we look forward to taking this next, significant step in our fight against C-71 – a fight we cannot continue without your support. If you haven't already, please become a member and help us continue to help you. JOIN THE FIGHT  against C-71.
Tyler Lawrason
VP of Government Relations