Amidst the Liberal hyperbole of C-71 and the talks and "examinations" of various types of gun bans, out comes Andrew Scheer with the first two pillars of his plan to combat actual crime and violence. This topic has been captivating the media and Canadians from all sides of this debate. The usual irrational, emotional, knee-jerk reaction to the rising gang violence has brought about the largest, most controversial battle for firearms owners we have ever seen. The CCFR has led the fight with massive, educational public relations campaigns, out-front media action and good old fashioned lobbying. It never ceases to amaze us how the very people NOT responsible for the violence, find themselves at the end of the pointed finger of the left, while credible work on actual crime and violence seems to escape politicians at every level.
Enter Scheer.
Here's the breakdown of what he plans to do in summary: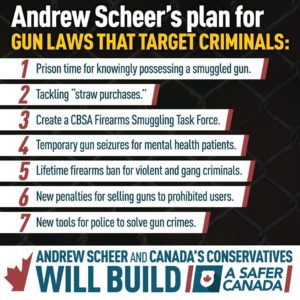 You can read the press release here:2018 11 20 NR - Gun Laws That Target Criminals - Vancouver v5[15314]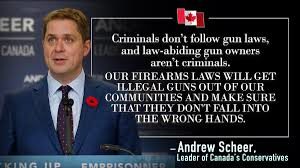 There is such a difference in the way these two governments intend to tackle "gun crime" that gun owners can't help but feel they are being cornered. The Liberals need to think long and hard about doing something that will have a positive effect on public safety.
Canadians aren't falling for this …
JOIN THE FIGHT FOR YOUR RIGHTS TODAY