If you don't already know all about Lynda, here's the background;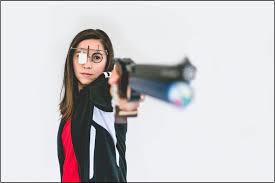 Lynda Keijko comes from a shooting family. Her late father Bill Hare competed in 3 Olympics and her sister Dorothy Ludwig became an Olympian in 2012. Lynda started shooting at the age of 11 in the hopes of following in her father's footsteps. Lynda and her sister Dorothy competed together at the 2010 and 2014 Commonwealth Games, creating a moment to remember in 2010 when the sisters won bronze in the 10m air pistol pair event. Lynda also has 3 Pan Am Games medals to her credit, winning double gold in the 10m air pistol and 25m pistol at Toronto 2015. She began 2015 with a career-high result on the International Shooting Sport Federation (ISSF) World Cup circuit, finishing sixth in the 10m air pistol just one month after giving birth. She also competed at her first ISSF World Championships since 2006 and cracked the top-five in the 10m air pistol at the Continental American Championships. She was part of the Canadian 2016 Olympic Team where she finished 38th in 10m pistol and 38th in 25m pistol. In addition to these incredible achievements, Lynda is also an accomplished professional, having completed her Bachelor of Science in Civil Engineering in 2003, and working as a Senior Civil Engineer in Calgary. In 2017 Lynda was appointed to the Canadian Firearms Advisory Committee (CFAC) and is currently the Vice Chair.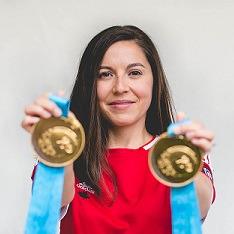 Lynda's endorsement of the 2019 CCFR Gunnie Girl Calendar, and what the shooting sports has meant to her;
"Pistol shooting was a family affair for us growing up. I started shooting at age 11 alongside my sister under the watchful eye of our 3-time Olympian father and coach, Bill Hare. Firearms safety was always paramount in our training, as well as honoring our mental preparation skills to stay focused on the task at hand. My sister and I competed beside and against each other for many years, both acquiring our own individual accolades of Pan American Gold Medals. One of my favourite shooting moments was standing on the podium beside my sister as a team, winning a bronze medal at the Commonwealth Games in 2010. The other favourite moment was winning Gold at the Pan American Games in 2015 on home soil. The pride of wearing the maple lead and representing Canada is a greater honour than I can describe. The enrichment this sport has brought to my life has been more than the medals won, it's the friendships made, the personal gratification of exceeding my previous performance. Knowing that no one moment defines who I am, but a culmination of many moments, in and out of sports. Being true to oneself is the greatest piece of advice I could offer to anyone, and shooting sports being typically an individual sport, gives a great opportunity to discover your own strengths."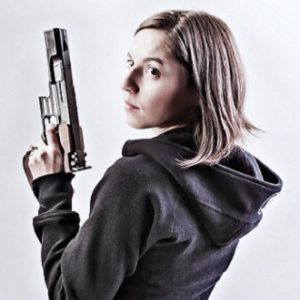 *At the time of this posting, Lynda has also qualified for the next Olympics, thanks to her incredible showing at the Championships of the Americas.
The CCFR is the only advocacy group that has a female division, has female executives, field officers, regional field officer coordinators and a female lobbyist fighting for your rights - from all angles.
Watch for the 2019 Calendar to go on sale on our online store in the coming week. The script above can be found inside on the first page with some great photos of Lynda.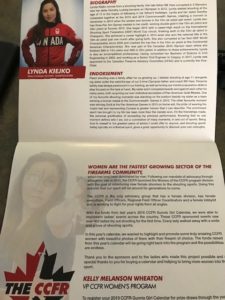 Follow Lynda on Twitter to keep up to date on her journey to Olympic gold for Canada!!!