Canadian gun owners have been under attack by the Liberal government since the 2015 election. Bill Blair's reaction to a horrific tragedy in Nova Scotia committed by a madman with a known criminal past and illicit firearms was to punish legal, RCMP vetted gun owners with a mass gun ban and confiscation plan, all during a global pandemic and a suspended parliament.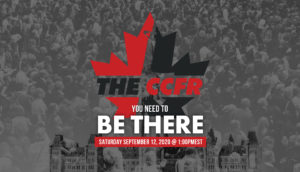 The CCFR is taking the fight to save your guns all the way to the Supreme Court, if need be. We will make sure your voice is heard in Ottawa and beyond.
BUT … you need to also be seen.
We are "marching on Ottawa" on Saturday, September 12, 2020 @ 1:00pmEST – The Integrity March. We are going to the capital of Canada, where the laws are made and the lawmakers are, to demand integrity from our politicians and in the decisions they make. Canadian gun owners want a safer Canada too – and we demand credible work on crime and violence.
Will you join us?
We're going to start right in front of centre block on Parliament Hill where we'll hear from a few speakers, then we'll march our way through Ottawa, led by a team of bagpipes and drums. We'll have lots of signs, flags and banners on hand for you as you exercise your right to be heard and seen. Rod, Tracey and the whole CCFR crew will be on hand, joined by thousands of concerned Canadians.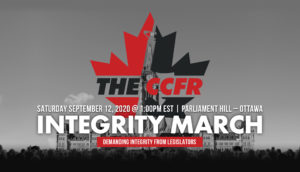 It's your Right in Canada.
The Canadian Charter of Rights and Freedoms guarantees freedom of expression and freedom of peaceful assembly. We are encouraging our members to exercise your fundamental right of assembly peacefully and cooperate with the direction of the CCFR organizers and accompanying security.
Covid got you worried?
The CCFR takes your health & safety seriously. Canada is currently in the midst of a pandemic. Mass gatherings, such as a demonstration, technically go against the CDC's recommendation to continue social distancing, and we want to avoid an increase in any new cases and encourage all participants to take as many precautions as possible. Recent similar events did not result in a surge in cases and we are confident we can be heard, safely. This event is strictly an outdoor activity.
CCFR will have masks on hand for those that find it difficult to social distance.
The CCFR also encourages the use of hand sanitizer and washing your hands as much as possible. We'll have lots of sanitizer on site to keep everyone's hands clean.
Lastly, if you are feeling sick or have a fever, do not attend. You will reduce the risk for everyone by staying home.
Stay safe, stay healthy.
Accommodations are available.
For those coming from out of town, local hotels have offered some discounted rates to our guests:
Best Western Ottawa: Classic guestroom w/2 Queen size beds = $125. Parking, wifi, gym and pool access included.
1274 Carling Ave, Ottawa 613-728-1951
To make reservations call toll free 800-528-1234 or e-mail frontdesk@ottawabestwestern.com GROUP BOOKING ID: 5I4KL8D7 (case sensitive). When making reservations, refer to CCFR or Block ID 2019. Cancellation allowed up to 24hrs prior to arrival - late cancellations subject to one night room charge +tax.
Delta Hotel City Centre: Double occupancy, Queen or Double bed = $99. Wifi, gym, saltwater pool access included, walking distance to Parliament Hill.
101 Lyon Street North, Ottawa 613-237-3600
To book - CLICK HERE - special rate available Fri-Sun
Transportation:
Ask your local gun shop or range to organize a bus trip. The CCFR has assembled a "how to" for organizers. We'd be happy to send it to you or your favorite shop or range. Contact us for a copy: march@firearmrights.ca
**Silence is interpreted as approval. The time is right to take a stand and demand better for all Canadians. Start making your arrangement now** 
#IntegrityMarch - Ottawa, Parliament Hill 1:00pm
Can't make it? You can still help.
For those of you who can't make it to Ottawa, there are still some important things you can do from home that will make a big difference:
Become a member of the CCFR HERE
Donate to the largest and most important legal challenge on behalf of gun owners in Canadian history HERE   
Send the "What Can I Do" link to everyone on your contact list and ask your clubs and retailers to send it in their newsletters.
Share the Canadian Firearm Quiz with everyone you know
Write your MP, Bill Blair and Justin Trudeau and let them know you don't approve of their action, silence implies approval.
Never vote for a Liberal candidate in an election again