The leadership team of the CCFR descended on beautiful Gatineau, Quebec this past weekend joined by members and volunteers from across the country. The two day event saw a mix of official corporate business and an appreciation day at the range for field officers and volunteers followed by a social. With parliament hill as a backdrop the weekend was full of action and conversation around C-71.
The festivities started with a range day on Friday June 8 with about 60 people in attendance. We gathered at the Eastern Ontario Shooting Club just outside Ottawa for some range time in the sun. The CCFR team was joined by some hill staffers from the offices of MP Blaine Calkins, Public Safety Opposition Critic Pierre Paul-Hus and Official Opposition Leader Andrew Scheer. The day was a huge success and a great way to thank our hard working volunteers while providing some insight to the staffers in attendance.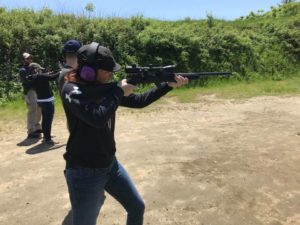 After a warm day in the sun the CCFR team headed out for an evening social. This was a great chance to network with other members.
Saturday arrived with the official annual meeting of the members, as required by the CCFR bylaws. Department updates were given by VP of Field Officer Program Nathan Picklyk, Operations/Membership/Lobby update from Tracey Wilson and the ever-popular "Rod Report" by Rod Giltaca which included everything from our upcoming TV show Canada Down Range to a conversation about C-71. Interim President Jamie Elliott gave a presidential report along with the delivery of the audited financials on behalf of Michael Loberg, CCFR Treasurer and General Counsel who was not able to attend due to business obligations.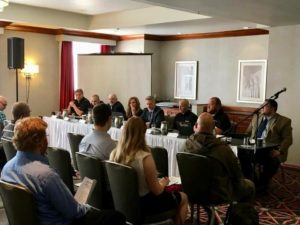 The business portion of the AGM was live-streamed to members, as is always the protocol with the CCFR in an effort to be inclusive of all members, regardless of geographical location for those who can not attend in person. This has been wildly successful and you can count on the CCFR to always put their members first, for accountability and transparency. Audited financials are available upon request to the CCFR office at info@firearmrights.ca by any member in good standing for the year the audit refers to. The CCFR has produced audited financials as a best business practice since its inception.
A member-wide vote on 3 amendments to the Articles of Incorporation were all passed with resounding support.
There were multiple new directors added to the slate as well as some departing. Only two provinces had a contest, the other positions were acclaimed.
Your new slate of CCFR Directors are as follows: 
British Columbia; Nathan Picklyk remains with one year left on his term and is joined by long-time CCFR member Tyler Johnstone of Vancouver.
Alberta; Aaron Snell has one year left to serve and is joined by CCFR VP of Government Relations Tyler Lawrason, an integral part of the team. Michael Loberg - one of the founding Directors of the CCFR did not re-enter the race but continues his support and consult to the CCFFR.
Saskatchewan; Sean Hyndman continues his service to the CCFR for one more year
Manitoba; The CCFR welcomes back returning Director Terry Chartier and thanks Ron Scott for his 2 years of service.
Ontario; Gord Lamoureaux continues to serve his remaining year on his term and we welcome Jamie Elliott back for another 2 year term. Jamie is a long term member of the leadership team.
Quebec; Sandro Abballe continues to serve for the year left on his term and is pleased to welcome Etienne Tremblay to the Quebec team. Etienne served previously as the Regional Field Officer Coordinator for Quebec.
New Brunswick; Trevor Furlotte is welcomed back for another 2 years of service in his vital role as the only east coast director. Trevor has been with the CCFR since it's inception.
All other Director seats remain unclaimed at this time.
The meeting was followed by a dinner banquet for ticket holders and included some great guest speakers.
The Hon. Michelle Rempel, MP for Calgary-Nose Hill, CCFR member and gun owner delivered an empowering speech to attendees about C-71 and misguided gun control measures. Rempel thinks legislation should focus on affecting actual crime and we agree with her.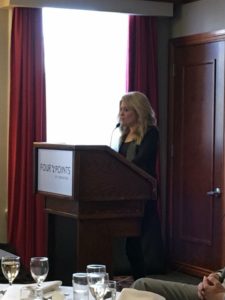 Michelle was joined by colleagues The Hon. Candice Bergen and a staffer from Andrew Scheer's office. Opposition to the bill mounts as the Liberals hurry to cram it in while in power.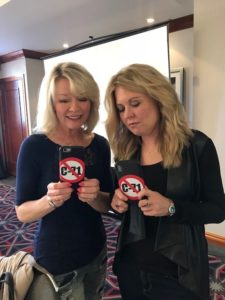 Dave Young, the "godfather" of self-defence in Canada gave a detailed presentation complete with slides to the attendees. This was well received and quite educational considering the misinformation about this topic in Canada.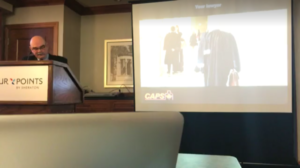 The evening concluded with a feast of prime rib roast beef, a mushroom tarragon sauced chicken dish and all the trimmings. CCFR members attending raved about the great meal, wonderful guest speakers and fabulous company.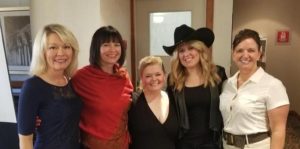 Stay tuned for information regarding the next CCFR AGM and a huge thank you to everyone who helped make the event a success.