Canada's biggest name in hunting spent some time in Ottawa this week meeting with government officials to discuss the government's recent legislation, C-71 which is currently in the Senate stage, as well as the proposed ban on handguns and "assault rifles" - a term not yet even defined.
Jim also took in the opportunity to send some lead down range with our very own Tracey Wilson, VP of Public Relations and our registered lobbyist.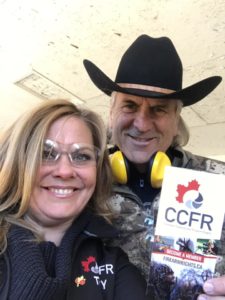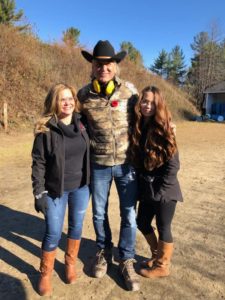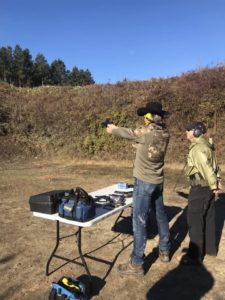 Tracey, accompanied by Field Officer/fiancé Colin Saunders and her daughter Summer, also an accomplished hunter had the opportunity to spend a couple hours with Jim, discussing the ridiculousness of the classification system, the hyperbolic nature of the anti-gun Liberal gun control measures and the misinformation fed repeatedly to the public by the government, the media and even law enforcement. Conservative Hunting & Angling Caucus Chair MP Blaine Calkins, his assistant (and avid hunter) Christine, and Blaine's two teenagers all joined in for some fun at the range under sunny blue skies.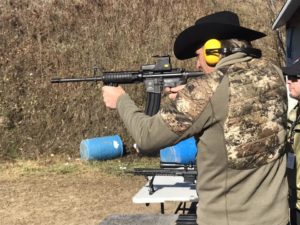 Jim had the opportunity to discuss and shoot some beautiful prohibited handguns, thanks to the volunteers at The Eastern Ontario Shooting Club, just east of Ottawa.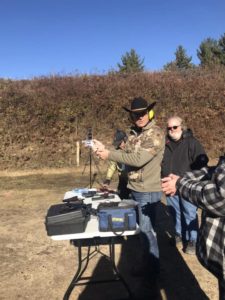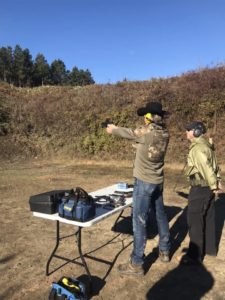 When trying to explain to him which ones were restricted and which ones were prohibited and why, Jim kept exclaiming, "this is ridiculous, this is Canada, a free country". Well, if the Liberal government has anything to say about it we may see a ban on all handguns Jim!
After some fun at the range, Jim got down to business at Parliament Hill with a series of official meetings with the opposition, including Chair of the Conservative Hunting & Angling Caucus Blaine Calkins and Official Leader of the Conservative Party of Canada Andrew Scheer.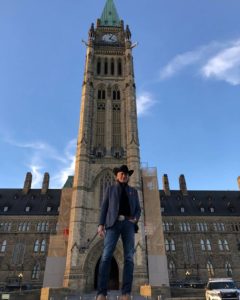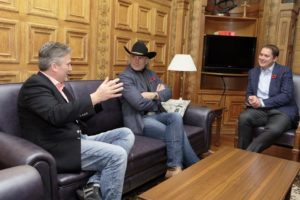 While Jim was in the House of Commons, he paid a visit to the chair of Prime Minister Justin Trudeau. The following is an excerpt from a post on Mr. Shockey's social media;
" This will be a long one.
This empty seat, is actually where Canada's Prime Minister Justin Trudeau sits in Parliament...but he and all the Liberals who are about to pass C-71, the new Gun Control Act, are obviously not working today!
We contacted every single one of the Liberal Members of Parliament on the Outdoor Caucus, to set up meetings to talk about this new Gun Control legislation...and NOT A SINGLE ONE OF THEM WOULD DEIGN TO MEET WITH ME!
Hmmm. I even wore a fancy jacket to show my respect.
But it sure seems to me like this group can't be bothered to explain to a concerned, patriotic, law-abiding firearm owner and citizen of Canada, how they thought my family or any family is made safer by them making even more complicated rules to do with my already highly regulated and controlled and restricted firearms.
Honestly I'm a pretty common sense guy, who like most hunters, prefers to avoid conflict and live and let live, but I have to admit, I'm getting frustrated with some of the decisions our various Canadian governments have been making lately. (See Grizzly bear hunting ban in British Columbia)
So I wanted to meet with them to understand their reasoning. They say it's for public safety...but I wanted them to explain how my having to apply for a "Transportation Permit" to take my restricted legal firearm to the gunsmith, makes my family safer. Already, by regulation, my firearm has to be locked up in a case and has to have a trigger lock to boot when I take it to the gunsmith!
And that is just one of the many new C-71 gun control laws, about to be passed by the Liberal majority, that don't make any common sense to me.
That all said, the Conservative Members of Parliament were definitely working today. And many of them took the time to meet with me, including the Conservative Leader of the Opposition, Andrew Scheer. It was refreshing to meet politicians who really are concerned, are willing to listen to Canadian citizens and have common sense to boot!
Sorry, but I need to ask one more time, would anybody from the Liberal side please explain to me how these complicated new Gun Control laws make people safer? I really want to know why I can own a ..22 caliber revolver and a .38, .40, .44 and .45 caliber revolver, BUT it is prohibited for me to own the exact same revolver in .25 or .32 caliber?????
Where is the common sense???"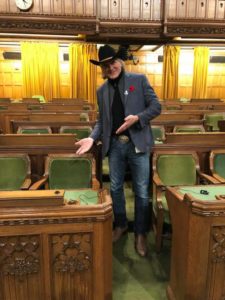 We agree Jim, where is the common sense … it's been completely absent from the gun control discussion in this country for a long time.
It's nice to see such a well respected personality from our hunting community speak out against the ineffective and wasteful gun control measures that the Liberals are introducing. Jim encouraged all hunters to get in the fight!!