Directors, Field Officers, volunteers and even a future Olympian will be descending on the GTA this week for the hugely successful Toronto Sportsman Show, March 15-19 at the International Centre in beautiful Toronto, Ontario. The gang is excited to spread the good word of the CCFR mission and has prepared by doubling the size of their booth from last year, as well as recruited an army of volunteers.
"This show is an excellent opportunity for the CCFR to reach a huge audience", said CCFR Ontario Director Jamie Elliott. "People from far and wide will visit our booth, sign up for memberships and take part in the many diverse attractions we are offering this year"
This year the CCFR is delighted to have Mary Patrick, Team Canada High Performance Junior, Canadian National Rifle Team member on hand to sign autographs for the kids, pose for photos and talk about her journey to the podium and Canadian Gold. The CCFR supports this bright, young athlete and so should you!! Team Mary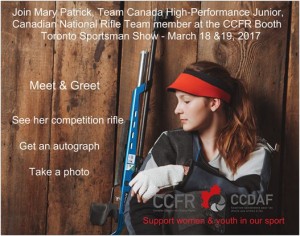 We'll have the parliamentary e-petition on hand for you to sign and support this important project. For more information on the only prohibited health & safety device visit Sound Moderators Canada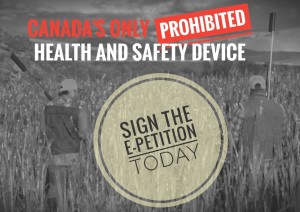 There will be a number of the girls from the successful CCFR gunnie girl calendar on hand and this will be your last chance to get your hands on them!! Be sure to stop by and say hello to Danielle Morton (Titan Tactical), Mary Patrick, Field Officer Kelly Kincaid and CCFR Chair of the Board Tracey Wilson along with the rest of the CCFR team.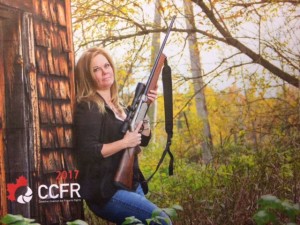 And of course, the team will be busy helping new members sign up, so don't miss your chance to take a stand for your rights as a Canadian firearms owner. Join Today!!
For more information on the event, venue directions, parking and ticket info visit the TSS
See you there!!! ~Team CCFR