~Ottawa, Monday October 15, 2018
Today is a big day for Canadian gun owners. The CCFR's CEO & Executive Director Rod Giltaca arrives in Ottawa to join VP of Public Relations and registered in-house lobbyist Tracey Wilson, to address the Trudeau government's interest in a handgun ban and related "public consultations". The duo will spend the week on Parliament Hill defending the legitimate ownership of handguns by civilian gun owners across the country, and tackle Bill Blair's survey that opened up to the public last week.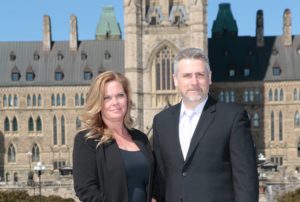 Re-cap: In a mandate letter issued by Prime Minister Trudeau in August, Minister of Border Security and Organized Crime Bill Blair received instruction to complete an examination of a complete ban on handguns and "assault weapons" in Canada. The directive itself leads us to believe the current government is at a loss for experts. Assault weapons have been banned in Canada for decades. The recent survey released by Public Safety contains some very leading questions, and includes a partial US Department of Justice definition of "assault weapons" that is so outdated it was axed by the Americans in 2004. Is this government capable of defining terminology on their own?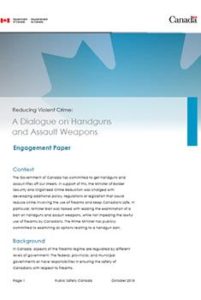 The "public consultation" initiative also includes in-person stakeholder engagement sessions that will be taking place across the country, but will be by invitation only - so not public at all. What is the criteria to be considered a stakeholder? Surely with over 2 million Canadians who would suffer the consequences of a "ban" on their legally acquired firearms should have a stake in this. The CCFR is in conversations with the federal government and will push for much broader inclusion in this process.
"There are real impacts on the lives of real Canadians as a result of processes like this, in this case 2.2 million Canadians. We are very concerned both in the lack of legitimacy and the lack of leadership this government is showing on this file" said Wilson from her Ottawa office. "Canada has some of the most severe penalties for unauthorized firearm possession and misuse in the civilized world. Our problem is not that we don't have enough regulation" added Giltaca.
The CCFR is the only national firearms rights advocacy organization with a full time, in-house registered lobbyist specializing in firearms regulation. Wilson attended the Minister's Summit on Gun & Gang Violence last spring in Ottawa, on his invitation and travelled to Toronto to attend the only "town hall" meeting on this matter with Bill Blair. The CCFR leads the fight against C-71 and continues to provide rational, effective representation for Canadian gun owners - we always show up.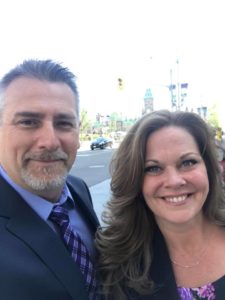 Rod & Tracey have a full schedule of lobby meetings with MP's and Senators this week, media bookings including an in-studio session with CFRA's Brian Lilley and will be hosting a parliamentary press conference in the Charles Lynch Room of Center Block on Wednesday morning at 10:00am, where they will react to the government's continued assault on gun owners, lack of credible work on crime and will issue a challenge to the Liberals concerning these matters.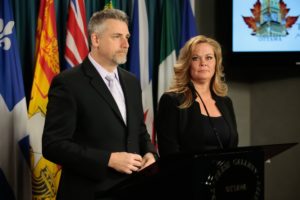 You can count on the CCFR to take a stand for your ability to own and use your firearms in Canada, and we will continue to press the government to fulfill their promise and obligation to work on actual crime.
Do you support this initiative? You can do so by becoming a member, or making a donation  if you already are one. Every little bit helps!!