With C-21 slowly making it's way through the legislative process, a new, powerful, credible group has voiced their concerns with the bill and suggested amendments; academics, scholars and researchers.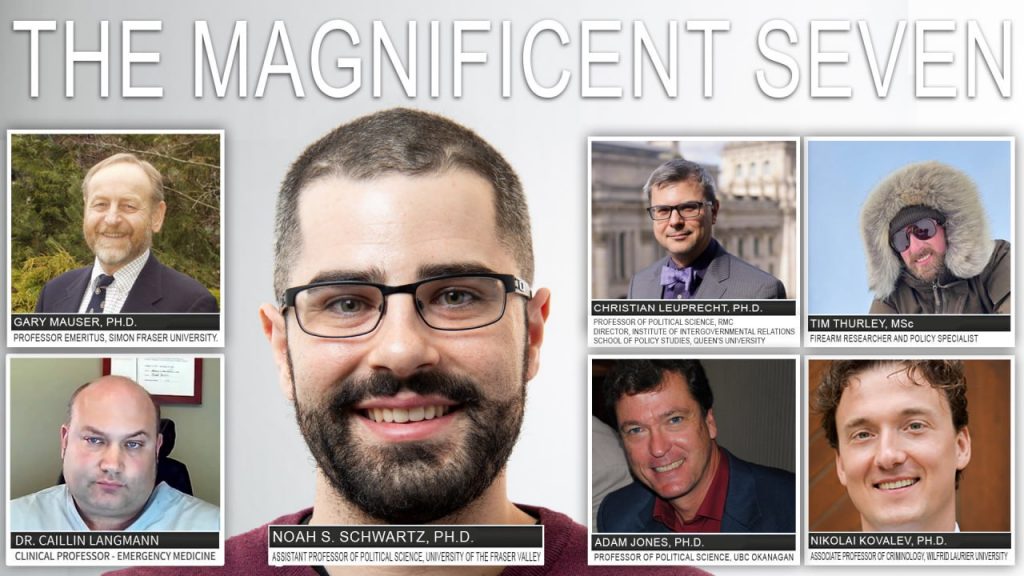 At the time of this story being written, C-21 rests with the Senate and will likely achieve 2nd reading and be sent to committee for study. This will be an opportunity for Senators to do the critical consultations with experts, stakeholders and the public, that the House failed to do. Conservative Senate Leader, Don Plett, has been a vocal advocate for legal owners and has heavily criticized the bill, even after receiving a pushy letter from Minister Mendicino to hurry up and rubber stamp it.
At committee is where the real study of legislation happens. Witnesses are called to testify and Senators will pour over briefs sent from every side. This is where the Magnificent 7 come in.
In a Twitter post, Dr. Noah Schwartz made the announcement; that him and a group of colleagues had joined forces on a letter and briefing to the Senate. And it's a very damning report. The "Magnificent 7" is comprised of some of the brightest and best academic minds studying and researching gun violence, homicide, suicide, mass shootings and Canadian firearms legislation. Side note: I gave them this nickname 😉
Here are the members of the group:
Noah S. Schwartz, Ph.D. Assistant Professor of Political Science, University of the Fraser Valley
Tim Thurley, MSc, Firearm Researcher and Policy Specialist.
Adam Jones, Ph.D. Professor of Political Science, UBC Okanagan
Nikolai Kovalev, Ph.D. Associate Professor of Criminology, Wilfrid Laurier University
Christian Leuprecht, Ph.D. Professor of Political Science, Royal Military College & Director,
Institute of Intergovernmental Relations, School of Policy Studies, Queen's University
Gary Mauser, Ph.D. Professor Emeritus, Simon Fraser University.
Caillin Langmann, MD, Ph.D., Assistant Clinical Professor, Medicine, McMaster University.
The National Post even picked up the story. You can read it HERE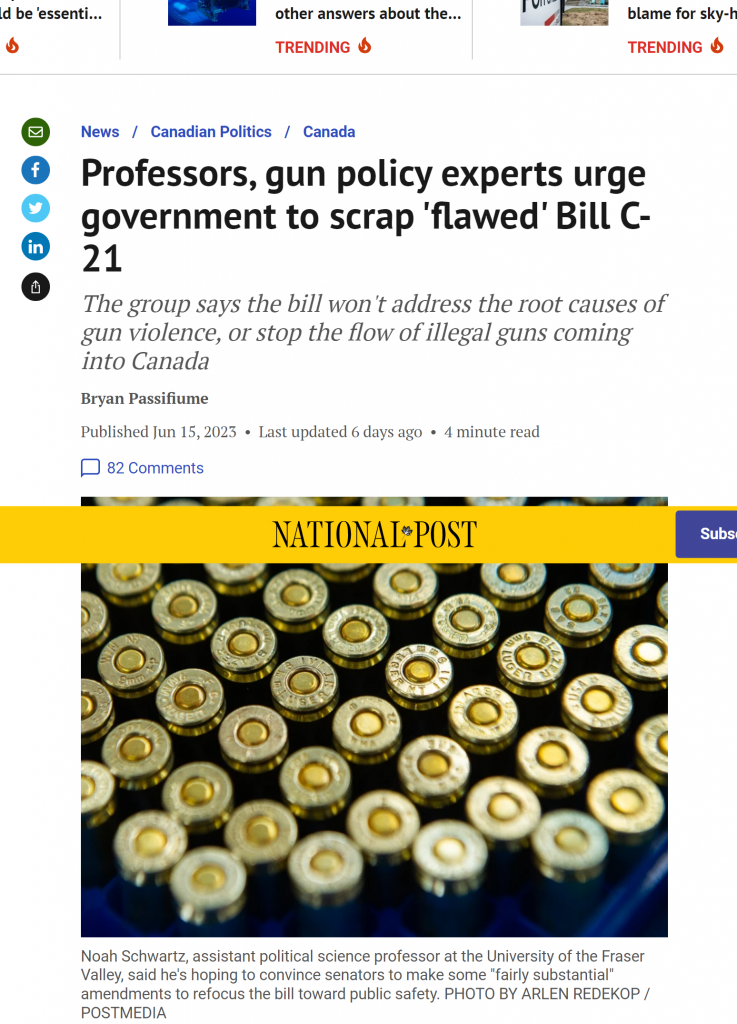 You can (and should) read the letter to the Senate and their list of recommendations:
Open-Letter-to-Canadian-Senate-Concerned-Scholars-1

We'll be watching these scholars closely and will bring you up to date information about C21 as it develops, keeping in mind the House of Commons will rise for the summer this week, and the Senate next week. C21 looks like it will be pushed to the fall for consideration.
In the meantime, we should (hopefully) have a judgement in our federal court challenge before then.
It's nice to see such a talented groups of experts, scholars and researchers take the political and professional risk of telling the truth about firearms legislation and it's lack of efficacy ...