The small town of Virden, Manitoba saw an influx of people the weekend of June 22-23. The population of Virden barely breaches 3000 people, yet in this tiny, beautiful Manitoba gem of a town, over 2500 people attended the 9th annual session of "Wolverine Days", a community-minded, live fire, charity shooting event that gives every day people a chance to try some incredible firearms while raising money for worthy causes. No license or experience required due to the amazing instruction provided by experienced volunteer instructors at every station. Proceeds of the event were being split between Ronald McDonald Children's Charities, who provide vital services to families of sick children, and the CCFR, to help us in our fight to preserve this sport and our rights.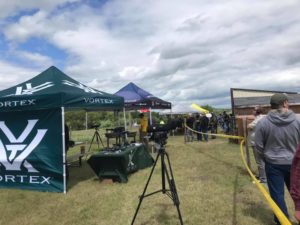 The CCFR had our friends at Code of Arms there filming for our second season of the TV show. I attended on behalf of the CCFR and have never been to this event, so my curiosity was peaked. I get to meet some incredible people as I venture around the country and this event in particular was going to be a treat.
I've said it a million times if I've said it once, you will meet the very best people there are, in the shooting sports.
I flew into Winnipeg, picked up my rental car and made my way the 3 hours to Virden on Friday night. With nothing more than a location ping on my GPS, which without fail took me the wrong way and through the back roads and mudholes of Manitoba, I made my way to the home of Matt Hipwell, son of John, the patriarch of the family business. Matt and I have met and spoken many times over the years as the Hipwell's have consistently been incredibly active in the advocacy department. I was welcomed with hugs and a cold drink and instantly felt at home.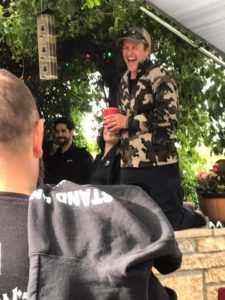 The next morning I arrived at Wolverine Supplies, a true feast for my eyes. Noticeably, there were tons of volunteers, smiling parking attendants waving people into spots and directing the flow of cars already arriving. From the first guy at the gate, to the reps at the booths, to the people in attendance, the entire feeling was light-hearted, incredibly friendly and expertly organized. The people make the difference at Wolverine.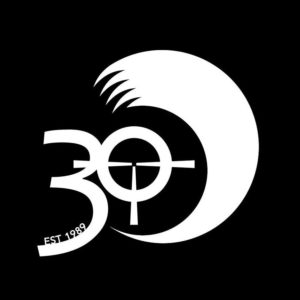 The property was particularly breathtaking with the large store greeting you at the top of the winding drive, to the rolling hills of the range out back, to the ivy covered patios of the private Hipwell home, absolute beauty stared back at me in every direction.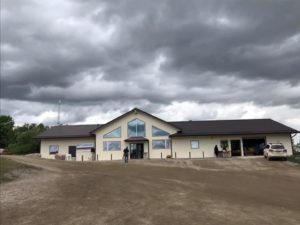 The highlight of the weekend for me, and many others, 76 year old "Janet" from New Zealand, in town visiting for a family wedding. She stood at less than 5 feet with typical grey curls and twinkling eyes like many others grandma's. But she wasn't like the other grandmas at all. Janet was eager to try some "big guns". The guys at Code of Arms got Janet settled in at the Vortex booth with an AR-15, a semi-automatic rifle that was recently banned and confiscated in her country.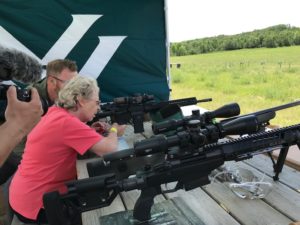 You can see from the video Janet absolutely loved it. When she was done I gave her a hug and asked her (almost jokingly) if she wanted to try the big .50cal Barrett. I was surprised when she responded, "well yes of course I do", and off to the Barrett booth we all went. Between the camera crew, her family in tow and the increasing crowd who was quickly falling in love with this tenacious little "kiwi", it looked like an entourage you would see following Tiger Woods on the golf course.
Janet shoots the .50cal Barrett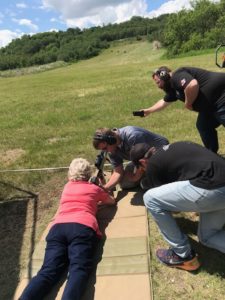 Laughter and a huge round of applause followed the blast from the gun and Janet turned to the crowd with huge smiles and waved. It was a sight I will never forget, and a reminder how important it is to preserve our rights to enjoy our firearms.
At the end of each day, everyone pitched in and helped clean up the range and secure the firearms for the next day. I'm not sure how many tens of thousands of rounds went down range over the two days, but I can tell you without hesitation that every single face had a huge smile gracing it.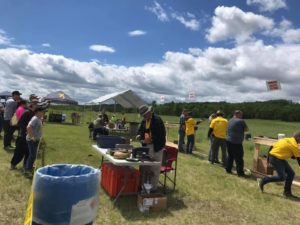 On the last day of the event, I sat on the Hipwell home veranda, gazing out at the rolling grasslands across the way, enjoying the sunshine, a glass of wine and the company of Mr. John Hipwell himself. Here are my thoughts coming away from this event;
The Hipwell's, a legacy of integrity.
While we celebrate the 30th anniversary of Wolverine Supplies, I pause to think about where it all started. Pat and John Hipwell came to Canada from across the pond with their young son Mathew. They settled in Manitoba on a gorgeous piece of gods country and John tried his hand at hog farming. The farming was failing terribly and John decided to turn his love of firearms and their history into a business. Pat, by his side.
They ran the business out of their small home and watched it grow, bit by bit over the years. I stood in their now largely expanded home yesterday and listened intently to John show me where the desks were, the ammo was there, some gun racks went there. He speaks with a little grin and his eyes twinkle.
Eventually they built an entire building for the shop and with that growth came success, well deserved. In the small town of Virden (pop. 3000) they now employ 22 people full time. Their staff is treated well, and well loved, and it shows in their service.
John is a quiet hero to our community. He's consistently been one of our best advocates for decades, testifying as an expert witness for the government, challenging (and winning) RCMP decisions, and supporting events across the country to promote our sport. I'm not sure many people understand how important a role he has played over the years as he does not get the accolades he should. But John doesn't even want them. Why? Because he's a man of integrity and doing the right thing is enough for him.
John is "semi retired" now, handing over the family empire he grew from literally nothing to his son Matt, a retired RCMP officer. The whole family works together, along with their "employees" which are family just the same in their eyes.
I'm thankful for the time I get to spend with the Hipwell's this weekend, it is my honour, truly. I'm grateful for the stories and the laughs, and of course the support. People like John are why I will never tire in this crazy fight we find ourselves doing every day.
As we shared a beautiful meal, a glass of wine and the incredible view from their gorgeous ivy covered veranda last night I watched Pat come up and hand John a plate. "You need to eat dear". Yes he said and she kissed him on the cheek, as she has for the last 48 years.
What an incredible life you have built for you and your entire family. Thank you for sharing a little bit of it with me. You have my utmost respect and adoration
Yes, that's a machine gun in his lap.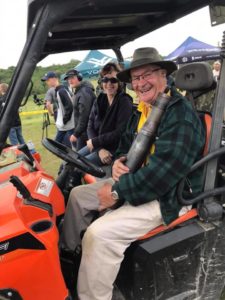 It's not too late to get in on this great fundraising event. Wolverine Supplies has created a special commemorative patch that's available to the public, with the proceeds being split between Ronald McDonald Children's Charities and the CCFR.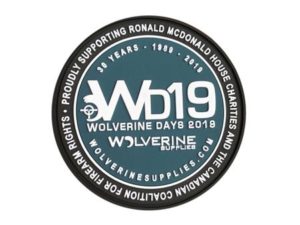 There are some incredible prizes up for grabs with the purchase of this patch. GET YOURS HERE
On behalf of the CCFR, our Board of Directors, volunteers, staff and members … hell, on behalf of gun owners across this great country, a humble thank you.
It doesn't seem like enough really, but thank you just the same, for everything.
~Tracey Wilson, VP of Public Relations, CCFR