As C-71 continues its path through the House of Commons and on to the Senate, Canadians across the nation can't help but notice the bias and bizarre behaviour of those charged with crafting and pushing this legislation. The roots of this bill run deep with the anti-gun lobby group Poly Remembers. Their registered lobbyist, Nathalie Provost was appointed to the Canadian Firearms Advisory Committee (CFAC) on January 26, 2017. Provost was given the Vice-Chair position and relinquished her status as a registered lobbyist, as required to participate on this panel.
Seems simple ... right?
The signed CFAC agreement states that Provost is not to; "engage in lobbying activities or work as a registered lobbyist on behalf of an entity making submissions or representations to the Government of Canada on issues relating to the mandate of this committee". - basically, do not lobby or try and influence government on the firearms file while serving your tenure on the committee.
On November 24, 2017 - a full 10 months after agreeing in writing not to do so, Provost submitted a legislative demand to the Government of Canada asking for more restrictive gun control measures. This lobby ask bears the letterhead of Poly Remembers and yes, her signature.
Let's take a look at what she was asking for and compare it to the measures outlined in C-71:
1. Provost: Tighten eligibility criteria and strengthen the screening process for people wishing to acquire, renew or keep a PAL
C-71: (a) remove the reference to the five-year period, set out in subsection 5(2) of that Act, that applies to the mandatory consideration of certain eligibility criteria for holding a licence;
** screening criteria time period moved from the last 5 years to the persons entire history.
2. Provost: Forbid all marketing that encourages multiple registrations with respect to firearms safety training
3. Provost: Strengthen measures related to the sale and transfer of firearms; including the reinstatement of mandatory verification of the validity of a potential buyer's licence.
C-71: (b) require, when a non-restricted firearm is transferred, that the transferee's firearms licence be verified by the Registrar of Firearms and that businesses keep certain information related to the transfer; and
** created a registry for NR firearms
4. Provost: Reinstate the full discretion of Chief Provincial Firearms Officers as well as the authority of the RCMP with regard to establish additional safety conditions associated with the granting of firearms licenses and the classification of firearms
C-71: Part 1 also amends the Criminal Code to repeal the authority of the Governor in Council to prescribe by regulation that a prohibited or restricted firearm be a non-restricted firearm or that a prohibited firearm be a restricted firearm and, in consequence, the Part
(a) repeals certain provisions of regulations made under the Criminal Code; and
(b) amends the Firearms Act to grandfather certain individuals and firearms, including firearms previously prescribed as restricted or non-restricted firearms in those provisions.
5. Provost: Reinstate controls over the sale of non-restricted weapons, including inventory controls and sales ledgers for gun merchants as well as the requirement to notify authorities of private sales
C-71: 58.1 (1) A chief firearms officer who issues a licence to a business must attach the following conditions to the licence:
(a) the business must record and, for the prescribed period, keep the prescribed information that relates to the business' possession and disposal of non-restricted firearms;
(b) the business must record and — for a period of 20 years from the day on which the business transfers a non-restricted firearm, or for a longer period that may be prescribed — keep the following information in respect of the transfer:
(i) the reference number issued by the Registrar,
(ii) the day on which the reference number was issued,
(iii) the transferee's licence number, and
(iv) the firearm's make, model and type and, if any, its serial number; and
(c) the business must, unless otherwise directed by a chief firearms officer, transmit any records containing the information referred to in paragraph (a) or (b) to a prescribed official if it is determined that the business will cease to be a business.
6. Provost: Reinstate transportation permits for restricted weapons so they include the locations in which a specific weapon can be present
C-71: (c) remove certain automatic authorizations to transport prohibited and restricted firearms.
** paper ATT's required everywhere but to and from the range
7. Provost: Ban assault weapons, which are designed for killing humans, once and for all
** prohibited since 1978
8. Provost: Revise measure on large-capacity magazines in order to eliminate an important loophole and impose a real limit of 5 rounds for NR weapons and 10 for R
** already in place
LOBBY SCORE: 7/8 = 87.5% successfully lobbied Public Safety while serving on CFAC
Provost continues to influence this legislation from the inside while serving on CFAC. At June 14's SECU meeting, two motions were passed that include additional recommendations to the government in connection with C-71. Poly Remembers has suggested that the government study whether or not it is reasonable for the commercial firearms manufacturers to promote sales of products, mostly restricted and prohibited firearms in a manner that "glorifies violence and simulates warfare". Would this trickle down into tactical training companies? Who decides what determines something to "glorify violence or simulate warfare"? Would an ad with a plate carrier be considered a simulation of warfare?
The CCFR's Tracey Wilson has filed a complaint with the Office of the Commissioner of Lobbying against Provost for her lobbying activities.
We have to wonder how far the government will go to appease Nathalie and at what cost to the millions of Canadians this legislation affects, none of them criminals by the way.
Meanwhile, Public Safety Minister Ralph Goodale continues to sit on his hands when it comes to actually combatting crime and gang violence. The continual promising of the millions of Canadian tax dollars is beginning to sound like lip service since it was announced in their 2015 platform and has yet to see the light of day.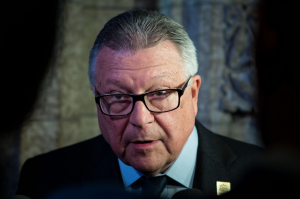 It's difficult to work on crime in one short election cycle, but necessary if the safety of our Canadian streets is the priority. Unfortunately, it isn't with this government.
Bill C-71 goes to 3rd reading this week.
Related stories:
Some things never change, CCFR testifies against C-71
Experts weigh in, C-71 is a failure to Canadians
The gov't will have access to firearm retailers records, the truth
The mystery of the changing RCMP website
CCFR to testify at SECU on C-71
Mark Holland calls gun owners thugs in parliament
C-71, simplified analysis and contentions
You can support the work of the CCFR and help protect your right to own and enjoy your firearms responsibly by JOINING THE FIGHT AGAINST C-71