Over a year of debate, questions, answers, non answers, witnesses, letters, e-mails, calls, speakers culminated in a single whipped vote today as C-71 passed in the Senate Chambers. The Standing Committee on National Security & Defence that studied this bill heard from 81 expert witnesses and debated for over 30 hours on this legislation, a bill that saw opposition of historic proportions.
Senator Plett delivered a damning, remarkable speech to open debate on what was to become the last day of deliberation on C-71. He explored the whipped vote that took place with the ISG (Independent Senators Group), with proof provided in the form of a memo that was circulated to the group. The memo spoke to the importance of showing up for the 3rd reading vote on C-71 today, to ensure they vote as a block.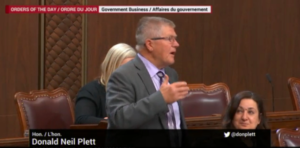 So much for sober second thought.
In spite of the evidence, against the data and science, and in the face of millions of good Canadians who did nothing to warrant this attack, the Senate chose to rubber stamp the will of the Government.
And what of the criminals? The violent gangs that plague our streets in cities and towns across the country?
Untouched by this legislation. A free pass given.
All of Canada should be concerned, dismayed even.
Your government has chosen to target Canada's most vetted citizens while placing more burden on an already drowning system, and turning a cheek to crime.
Cowards.
We'll keep fighting for credible work on crime … and a government brave enough to have the will to tackle that.