We are just days away from the CCFR's historic federal court challenge against the Liberal government and their May 2020 OIC gun ban. Many of our members and supporters have been asking how they can follow along and we've got the answers here.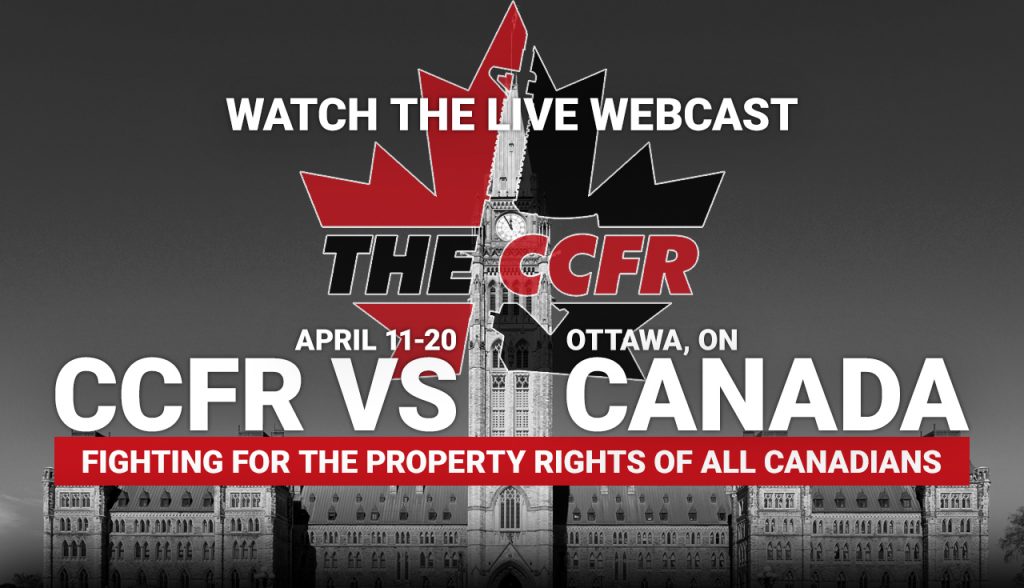 The web stream link is open for registration NOW, so make sure you've signed up to witness history and learn the fate of property rights in Canada.
The CCFR has been leading the fight in the federal courts, the media and the court of public opinion. We've invested over $2M in this massive court effort, thanks to the support and generosity of Canadians like you from coast to coast.
We've still got bills rolling in and you can help HERE
Many of the costs of administrative items, cross examinations, transcripts etc have been funded by the CCFR on behalf of the other smaller cases. Your donations help us facilitate that assistance.
Our team is excited to get to court and represent your interests in the final showdown.
Get your (virtual) front row seats by registering now to bear witness to this monumental federal court challenge.
REGISTER TO WITNESS CCFR VS CANADA - Federal Court Challenge Against the Gun Ban
There are some rules:
Recording, publishing, broadcasting, reproducing, photographing, or otherwise disseminating the video, audio, or any photograph of this hearing is prohibited.
Each person must register – sharing a link is prohibited. 
You can read the detailed court rules HERE so please govern yourself accordingly, we can not help you if you land yourself in trouble for violating the rules of the court.
You can find all the details and documents for our court challenge HERE
The CCFR firmly believes that this court challenge belongs to YOU, our members and supporters which is why we've been 100% transparent in sharing all the materials with you.
If you can help out, we haven't quite covered all our expenses yet, and we are prepared to take further actions, no matter the outcome. Consider donating if it's in your budget, if not, that's ok too - family first. These are tough times for many Canadians.
See you in the courtroom!!