With just days to go before SECU, The Standing Committee on Public Safety and National Security, begins the committee stage of the bill, many experts in the field of firearms legislation have weighed in on C-71.
The results are in ... C-71 is a complete failure, both in improving public safety and in ensuring gun owners are protected while keeping guns out of the hands of the wrong people.
The CCFR spent the week the bill was tabled in Ottawa, having a "lobby week", which culminated with a parliamentary press conference. You can watch it here: CCFR Parliamentary Press Conference
On the SECU web site, the briefs are piling in, showing serious opposition. The CCFR has submitted one as well, which is currently at translation.
CCFR CEO & Executive Director Rod Giltaca has officially submitted a request to appear at committee as a witness to speak on behalf of law-abiding gun owners, affected by this bill.
Dr. Caillan Langmann, a leading expert in this field submitted a 21 page briefing READ IT with the following summary;
• Background checks increased beyond 5 years will not result in decreased homicide or suicide by firearm and should not be performed. As well questions involving past suicide, depression and emotional problems, divorce, separation job loss, and bankruptcy should be removed as per the Privacy Act.
• Vendor sales records and license verification should not be implemented as the proposed verification system will not result in reduced homicide by firearm.
• The ATT should be repealed as a costly and redundant control of firearms, and replaced with an excuse allowing transport of all firearms to a location where such is safe and permitted to store, repair, sell or discharge.
• The evidence suggests that classification of firearms results in no public safety benefit and should be discontinued.
• Strategies that target youth offenders and gangs are more likely to result in beneficial effects.
Dr. Gary Mauser, a Canadian criminologist and emeritus professor in the Beedie School of Business at Simon Fraser University, submitted a 6 page briefing calling C-71 a "red herring" READ IT.
Here is his summary;
By conflating gang violence with gun violence, Bill C-71 breaks the government's repeated promises that criminal legislation will rely upon "evidence-based decision making." Bill C-71 exaggerates the problem with guns by relying upon false assumptions to target law-abiding citizens instead of criminals.
Bill C-71 is a red herring. The real problem, ignored in this bill, is gang violence. Bill C-71 focuses on PAL holders, not violent criminals. Hunters and sport shooters are not the problem. Legal guns are not a major conduit for criminals to get guns. The public is not at risk from law abiding PAL holders.
The additional regulatory complexity created by Bill C-71 will increase demands upon government services and increase costs to taxpayers. This can only reduce public safety.
The problem is violent crime, not 'gun crime.' When will the government get serious about gang violence?
Ottawa lawyer and specialist in firearms law Soloman Friedman is expected to testify at committee as well. On a March 20, 2018 episode of Power & Politics, Soloman says he is "underwhelmed" by C-71 which further criminalizes law abiding gun owners. WATCH IT
Other vocal advocates opposing C-71 include the British Columbia Wildlife Federation, Safari Club International-Canada, Canadian Sporting Arms and Ammunition Association, Yukon Fish and Game Club, ranges across the country, retail businesses and outfitters and the list goes on. Letters and phone calls have poured in to MP offices and the office of Public Safety denouncing the wasteful and ineffective legislative piece. A parliamentary e-petition E-1608 has garnered almost 75 000 signatures at the time of this post. Official opposition, the Conservatives have reacted on social media, in the House of Commons and with the media.
There are a couple things I think we can all agree on;
we all want a safer Canada
we all want some credible work done to combat crime
C-71 won't be effective on either 1 or 2.
CONTACT YOUR MP and ask them when the Liberal government will do some valid work to keep us all safer.
... or have they simply failed to "get it done" in this election cycle so this seemed like their only option?
For a government that promised the people "evidence based law making", this is a complete fail.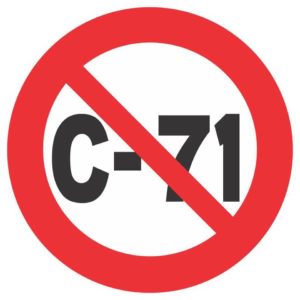 The CCFR is the only national firearms rights advocacy organization with an in-house registered lobbyist full time fighting for you in Ottawa ... JOIN THE FIGHT!