Public Safety Minister Ralph Goodale has filled 10 of the 15 available seats on the Canadian Firearms Advisory Committee. Gun owners across the country are anxious to find out if they will have any representation at all. So far, the panel falls so short of the middle ground that it leans heavy to one side. 5 of the 10 members belong to organizations under the umbrella of the Coalition for Gun Control and Nathalie Provost, a registered lobbyist for Poly Remembers is seated as Vice Chair to the committee, tasked with advising the Minister on issues surrounding the firearms file.
We have submitted two names for consideration to membership on CFAC; Tracey Wilson (unofficially) as a representative for women in our sport and Rod Giltaca (officially) as a certified instructor, an RCMP trainer, someone who has ran almost 4000 people through the CFSC and an actual expert in this field. Public Safety refused both without even an interview.
As a result, Tracey Wilson initiated a Parliamentary E-Petition, sponsored by Conservative Member of Parliament Michelle Rempel asking Minister Goodale to provide his panel with, at the very least, the bare minimum knowledge gained from the Canadian Firearm Safety Course. The classroom course delves into regulations, storage regs, transport regs, operational information and the Firearms Act. This invaluable information gives students a base upon which to build their knowledge surrounding firearms and their uses and ownership in Canada.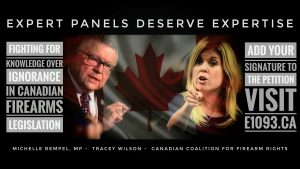 Journalist Andrew Lawton wrote an article for Global News after an interview with Wilson regarding this issue.
Lawton received a response from Goodale's office on their opinion of the petition (regarding Nathalie Provost-Vice Chair);
"It would be insensitive and inappropriate to require a survivor of the Polytechnique shootings to work with firearms in order to serve on CFAC. [To obtain a Possession and Acquisition Licence, you are required to pass a Canadian Firearms Safety Course. While this is classroom-based, it involves handling disabled and inert firearms and ammunition]" said Scott Bardsley, Goodale's press secretary.
Would it also not be considered insensitive and inappropriate to ask Ms. Provost to serve on a committee discussing the very issues that make it impossible for her to go to a classroom environment for education on the topic? What about the rest of the members of CFAC? Should the Minister not provide them with the tools necessary to do the very job he has tasked them with? As Wilson said in a recent radio interview, "it's like putting a plane crash survivor in charge of an avionics panel with no pilots on it".
Listen to the full interview here
With a committee riddled and led by anti-gun lobby supporters and the Minister refusing to either put a credible expert on the panel or educate the current members, CFAC looks like nothing more than a political construct.